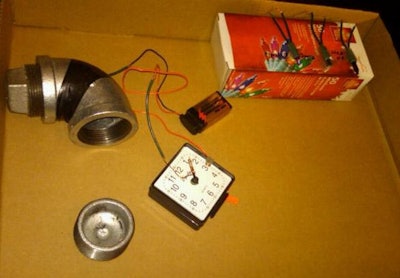 New York Police officers have arrested an Al Qaeda sympathizer who planned to bomb NYPD squad cars, a New Jersey police station, and several post offices.
Jose Pimentel, a 27-year-old Manhattan man, had been planning the attack since August, and had purchased bomb-making materials including a clock, elbow piping, and Christmas lights, reports the New York Times.
Pimentel, a convert to Islam who was also known as Muhammad Yusuf, had been under surveillance by the NYPD's intelligence unit for more than two years and had come close to completing three bombs when he was arrested Saturday.
Pimentel, an unemployed U.S. citizen, lived in Washington Heights. He had previously lived in Schenectady where "he made even some like-minded friends nervous by his extremism," Police Commissioner Ray Kelly said at a press conference.
"He talked about changing his name to Osama Hussein to celebrate his heroes Osama Bin Laden and Saddam Hussein," Kelly added.
Pimentel is believed to be a lone wolf, rather than a member of a group planning the bombing. Pimentel apparently was fascinated with Anwar al-Alwaki, the U.S.-born Islamist militant who was killed in a drone strike in September in Yemen.
He had discussed bombing NYPD patrol cars and a Bayonne (N.J.) Police Department station. Bayonne has been identified as a prime terrorist target because of its vast chemical storage facilities, reports the Hudson Reporter.
Apparently, the FBI declined to pursue a case against Pimentel, because they believed he was mentally unstable and incapable of pulling off the plot, the Associated Press is reporting.
By Paul Clinton