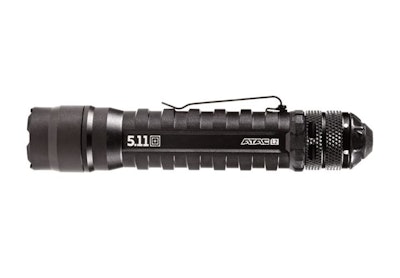 5.11 Tactical introduced its line of ATAC flashlights at the 2011 International Association of Chiefs of Police (IACP) conference, offering five choices for officers.
The lights arrive with aerospace-grade aluminum bodies, regulated circuits for maximum output, high-powered Cree XP-G LEDs, and three modes (high, low, and strobe).
The lights include the ATAC L1, which is rated at 173 lumens, runs for 2 hours, and retails for $74.99. The ATAC A1 is rated at 103 lumens, runs for 50 minutes, and retails for $54.99. The ATAC L2 is rated at 222 lumens, runs for 4 hours, and retails for $84.99. The ATAC A2 is rated at 162 lumens, runs for 1 hour and 45 minutes, and retails for $64.99. The ATAC PLx is rated at 69 lumens, runs for 3 hours, and retails for $29.99.
5.11 Tactical is also offering a belt clip compatible with all ATAC lights that attaches to standard and duty belts. It retails for $14.99.
The flashlights are being distributed by OfficerStore.com.