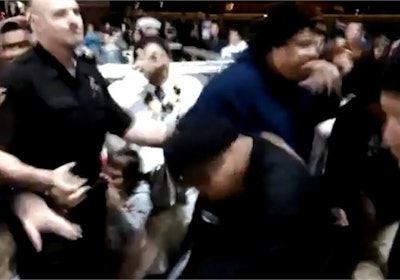 The Roosevelt (Utah) Police officers who used pepper spray and a baton on fans performing a Polynesian chant and dance after a high-school football game have been cleared in an internal investigation.
Chief Rick Harrison found that, while the officers could have used alternative means to clear the group out of the exit from Union High School's football field on Oct. 20, "the totality of the circumstances that evening suggest that the officers reacted within departmental policy and in compliance with state law," reports the Deseret News.
The Union Cougars had just lost a tight game to their rivals and were exiting the field when members of one player's family decided to perform an impromptu Haka war dance, and blocked the opening of a fence.
Two Roosevelt officers posted near the opening deployed pepper spray to disperse the crowd.
Related:
Utah Cops Use Pepper-Spray On Fans at High School Game (video)