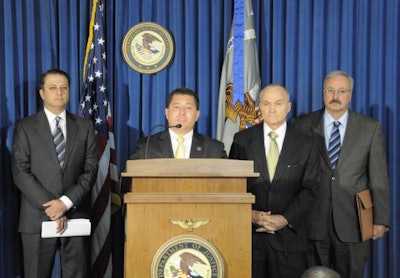 Five active NYPD officers have been named in a federal indictment charging them with illegally smuggling guns and what they thought were stolen slot machines, cigarettes and counterfeit goods.
Additionally, a New Jersey corrections officer and three civilians were charged. The charges were the result of a long-term FBI undercover investigation.
Officer William Masso allegedly recruited fellow 68th Precinct cops Eddie Goris, and John Mahoney, Brooklyn South Task Force officer Ali Oklu and 71st Precinct cop Gary Ortiz in the criminal schemes.
Officer Masso initially met with a criminal informant on the FBI payroll in late 2009. The informant, who was an undocumented immigrant, was looking for an officer to "fix" traffic tickets.
In the spring of 2010, the informant asked for help obtaining the contraband. Masso allegedly told the informant he could get a "retired cop, active cop, ex-cop, bad guy … You want a guy who beat the s**t out of somebody who bothers him, we got that. We got cops with vests and guns."
Officer Masso allegedly delivered three M-16 rifles, a shotgun and 16 handguns, most of which had their serial numbers removed or altered. The officer took the weapons in a duffle bag from New Jersey to a warehouse on Long Island to give to an undercover FBI agent.