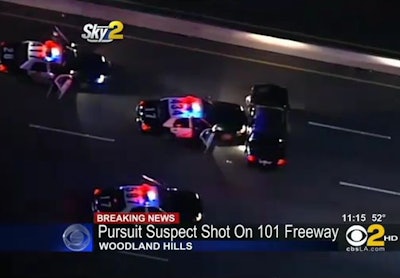 The family of 19-year-old Abdul Arian, who was shot and killed by Los Angeles Police last week, filed a claim on Monday seeking $120 million—or $1 million for each bullet they say LAPD officers fired at the young man, reports the Los Angeles Daily News.
The claim, filed by parents Ahmad and Deena Arian against the city of Los Angeles, said their son was "brutally and unlawfully shot to death" by eight officers who fired approximately 120 rounds of ammunition at the unarmed teen.
Arian was fatally shot April 11, after leading officers on a high-speed pursuit and swerving into the middle of the Hollywood (101) Freeway in Woodland Hills. After exiting his vehicle, Arian made menacing gestures toward officers, who fired at Arian.
"It is unfortunate that our society has come to the place where a lawful command from an officer goes ignored," said Tyler Izen, president of the Los Angeles Police Protective League (LAPPL), in a statement. "When a person decides to engage officers in a pursuit, refuses police orders to end the threat they are posing to the safety of officers and the public, tells the police that they have a gun, exits a vehicle and takes an aggressive shooting stance, extends their arms out and points an unknown object at the officers, they are subjecting themselves to the consequences of their actions, which may include being shot."
The family claims Arian was pleading with 911 dispatchers for officers not to shoot him. The LAPD has said 911 tapes reveal that Arian told a 911 dispatcher that he was not afraid of cops and would "pull my gun out on them."
Related:
Protests of LAPD Freeway Shooting (video)
Teen Shot by LAPD Was Dropped From Explorer Program