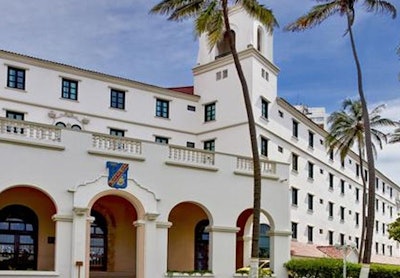 The U.S. Secret Service suspended 11 special agents and uniformed officers who allegedly hired prostitutes while providing security for President Obama in Columbia.
The misconduct occurred Friday prior to Obama's arrival and also involved five service members of the U.S. military. The agents allegedly brought the prostitutes back to the five-star Hotel Caribe in Cartagena, reports the Associated Press.
On Sunday, Obama said the conduct, if proven, doesn't represent "the highest standards" of the agency. The Secret Service director is investigating the incident.
"I expect that investigation to be thorough and I expect it to be rigorous," Obama said during a speech. "If it turns out that some of the allegations that have been made in the press are confirmed, then of course I'll be angry."
Rep. Darrell Issa, R-Calif., said the scandal may reveal something about the agency's culture during an appearance on CBS' "Face the Nation." Issa said agents often have "wheels up parties" when the president is on his way home from a trip.
"You had drinking and activity that clearly compromised the ring of security," Issa said about the Columbia scandal.