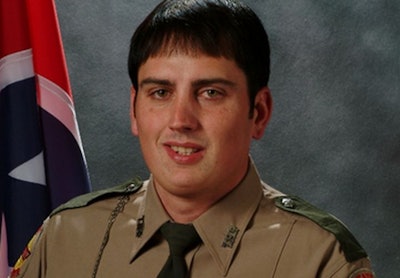 A trucker who fell asleep at the wheel plowed into a Tennessee trooper's parked cruiser early Tuesday, causing it to burst into flames and critically injuring the officer.
Sgt. Lowell Russell of the Tennessee Highway Patrol was rescued from the flaming cruiser after the 3 a.m. crash along Interstate 40 in west Knoxville, reports WBIR.
The trucker, 32-year-old Eric Dwayne Lewis, told police he fell asleep while driving from Orlando, Fla. Lewis was arrested and faces charges of aggravated assault, reckless endangerment, violation of the move-over law and failure to exercise due care, reports the Associated Press.
Emergency medical personnel pulled Sgt. Russell from his vehicle as ammunition and road flares in his truck began to explode.