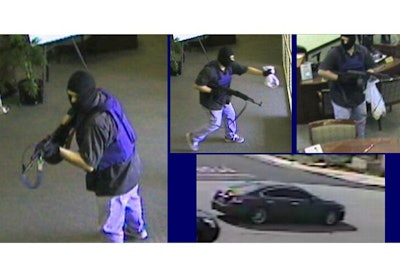 A phone call likely meant to distract police before a bank robbery in Chino, Calif., in late February may signal a new trend in criminal activity, according to investigators on the case.
Investigators with the Chino Police Department and FBI, during a Wednesday press conference, released audio of the call and warned other law enforcement agencies about false bomb threats. The calls are meant to drive police personnel away from crime targets, Lt. Wes Simmons told POLICE Magazine.
"The distraction call was meant to get our personnel to a different location to free them up to commit crime somewhere else," Lt. Simmons said. "For us it's unique. We don't receive bomb threats very often."
This call came in to the city's dispatch center from a pay phone at 10:17 a.m. on Feb. 29. The caller reported a bomb at a business in the far southern end of the city and added, "This is not a drill. Do you hear me? There's a bomb and I will explode it."
Several minutes later, a man donning body armor, wearing a ski mask, and toting an AK-47 assault rifle entered the mid-city California Bank and Trust at 5455 Riverside Drive. After exiting the bank at 10:52 a.m., the suspect opened fire on a Chino police officer who was passing the bank while on patrol. He was using a 100-round ammunition magazine.
Several rounds struck the cruiser, and one projectile also hit the officer. The officer was able to drive himself to Chino Valley Medical Center for treatment.
The suspect fled the scene in a dark grey Nissan Maxima sedan with tinted windows and an Arizona license plate. The FBI is offering up to a $20,000 reward for information leading to the arrest of the suspect, who is described as white and 25-40 years old with a stocky build. Police believe the suspect placed the call.
"We are continuing to ask for the public's assistance in this important matter," said Chino Police Chief Miles Pruitt in a statement. "This suspect will be brought to justice with your help."
By Paul Clinton
Related:
Manhunt Underway for Bank Robber who Shot Calif. Cop with AK-47