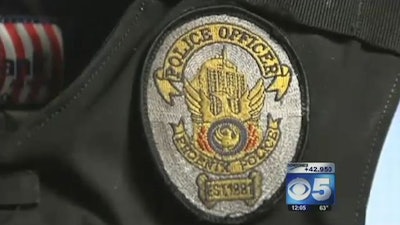 A body armor model produced by Custom Armor Technologies in May of 2008 failed several independent tests and will be pulled from service by the Phoenix Police Department, police and city officials announced at a press conference today.
The Phoenix Law Enforcement Association (PLEA) submitted the company's QVA-3A-1 vest to Oregon Ballistic Laboratories for testing following the shooting of Officer Tony Daley on Nov. 26. Officer Daley, who was seriously injured, was wearing the Custom Armor vest when he was shot in the lower left abdomen after responding to a trespassing call. The suspect's .40-caliber round punctured the vest's Kevlar material.
Body armor sold to law enforcement must meet one of several National Institute for Justice (NIJ) testing standards. The NIJ Standard-0101.06 rates vests on a scale—Level I, Level IIA, Level II, Level IIIA, Level III, and Level IV—that's based on the ammunition it protects against.
The Custom Armor vests were advertised as Level IIIA, meaning they protect officers against .44 Magnum and most other handgun projectiles.
"Our officers go out every day with their vests on to protect them from what they encounter in these increasingly dangerous times," said Joe Clure, president of PLEA and a 30-year officer. "Oregon Ballistic Laboratories understood these concerns about this vest and completed the tests Feb.16 using NIJ protocols and the vest failed. We do not feel confident in sending our officers out in these vests."
At Oregon Ballistic, the Custom Armor vest was put through two tests on Thursday. In the first, a technician fired a .44 Magnum round that penetrated the front and back of the vest. The second test measured blunt-force trauma. Again, a .44 Magnum round was fired into the vest, which covered clay. Two rounds penetrated 51.19mm (2.01 inches) and 46.31mm (1.82 inches), surpassing the Level IIIA standard of 44mm (1.7 inches).
Custom Armor, which was once located in Peoria, Ariz., was absorbed into Diamondback Tactical, which is based in Spindale, N.C. A Diamondback Tactical spokeswoman couldn't be reached for comment.
Phoenix Mayor Greg Stanton, Chief Joseph Yahner, Clure, and others announced the results at a press conference today at PLEA. Clure has polled the membership of the department's 3,048 sworn personnel to determine how many officers are using the Custom Armor vest.
Instead of issuing vests to its officers, the Phoenix PD provides an $800 allowance every five years. Officers who turn in Custom Armor vests will be given another $800 to buy a new vest.
By Paul Clinton