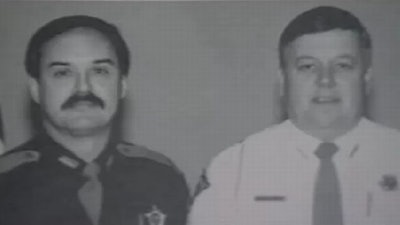 Monday marked a somber anniversary for families of the officers who were murdered by Ralph Baze in Powell County, Ky.
On Jan. 30, 1992, Baze shot shot and killed Powell County Deputy Arthur Briscoe, who had come to his cabin to arrest him for assaulting a police officer in Ohio. Baze also fatally shot Sheriff Steve Bennett, who arrived to provide back-up.
Baze was convicted and given the death penalty. In the years since, he has admitted to killed the two deputies and argued the shooting was in self defense.
Baze had been scheduled to die by lethal injection on Sept. 25, 2007, when the Kentucky Supreme Court granted a stay to hear a lawsuit filed by Baze and another inmate that the state's lethal cocktail of drugs constituted cruel and unusual punishment.
The U.S. Supreme Court agreed to hear the appeal, eventually confirming the Kentucky high court's ruling that the lethal cocktail didn't violate Baze's Eighth Amendment rights.
Today, Kentucky remains under a judge's order that stopped all executions, and lawmakers are considering an additional year-long moratorium to review the findings of a two-year study the American Bar Association conducted on the state's death penalty system.
"Every time something happens related to this issue of his execution, hurts every one of us all over again," Deputy Briscoe's son Dennis told WKYT. "It constantly hangs over my head that this hasn't happened yet, that his execution's not been carried out yet."
By Paul Clinton