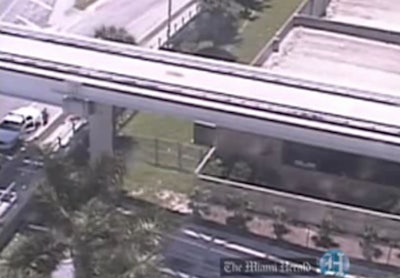 Rudy Eugene walked naked alongside the MacArthur Causeway before pouncing on a homeless man he found dozing in the shade of the elevated Metromover train tracks, reports the Miami Herald.
For almost 18 grisly minutes, Eugene savaged his victim, punching him and stripping the man's pants before gnawing off the homeless man's face — all as cars and cyclists rolled by on the busy causeway on a sunny Saturday afternoon.
The new details of the horrific attack were captured in additional video footage taken by security cameras at the nearby Miami Herald building.
Read the full Miami Herald story.
Related:
Miami Cop Who Stopped Cannibal Attack 'Doing All Right'
Miami Cop Shoots, Kills Naked Cannibal