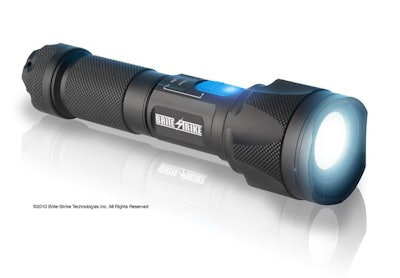 Brite-Strike Technologies has introduced the Duty Light Camera (DLC), which was designed to meet the unique demands of the police and military, according to the company.
The Duty Light Camera is a compact rechargeable duty light with a built-in video recorder that provides the ideal light and video resolution needed to capture an engagement while providing light on the subject, according to the company. The video recorder holds up to six hours of recordings.
The DLC weighs 12.3 ounces and measures 7.5 inches long. The DLC, which is manufactured to withstand the rigors of work in the field, operates on three settings: high, low, and strobe.
Recharge the lithium battery while working with the included 12-volt vehicle charger. Inside the body of the DLC sits a vibration-isolated microphone for clear audio recording. A removable rubber cap covers the microphone when not in use, keeping dust and water out. The microphone can be utilized to record audio along with video for documenting after-action reports. For greater flexibility, the audio feature can be deactivated where required by law. The DLC retails for $500.
Here are the DLC's specifications:
Mil-Spec hard-anodized
High: Up to 200 lumens. Low: Up to 80 lumens
One-count video activiation switch
2.5 hours of run time on high setting. More than 8 hours on low setting.
Integrated CMOS color video camera with audio
3GP video format
4GB video storage capacity
58° viewing angle