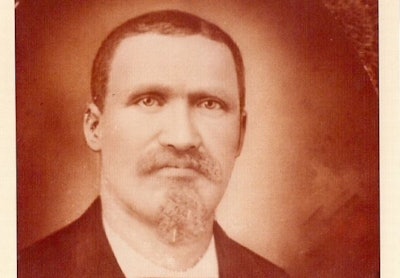 As a federal deputy tax collector, William Henderson Foote was a black law enforcement officer in the racially charged Deep South during the post-Reconstruction era. Foote collected taxes from liquor wholesalers and distributors.
Foote's name had been forgotten until this week, when the Bureau of Alcohol, Tobacco, Firearms and Explosives (ATF) honored him as the first black federal officer killed in the line of duty.
Foote, a sworn agent with the U.S. Treasury Department's Bureau of Internal Revenue, now has a place of honor at the National Law Enforcement Memorial in Judiciary Square. His name was among the 362 engraved this year during National Police Week.
During a Monday ceremony at ATF headquarters, agency leaders presented Foote's descendants with the U.S. flag they were denied after he was killed on Dec. 29, 1883.
Acting Director B. Todd Jones presented the flag—with only 38 stars, representing 38 states—to Foote's grandniece, Bettye Gardner, and great granddaughter, Patricia Nolcox.
"ATF is proud to honor the memory of William Henderson Foote whose bravery and sacrifice are emblematic of the commitment that is shared by all ATF personnel who work tirelessly to protect the American people from violent crime," Jones said.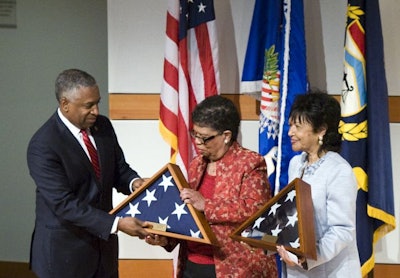 Foote was killed in Yazoo City, Miss., by a lynch mob, after he intervened to stop three white men from beating a black man. Three years earlier, Foote had been appointed as a federal collector in Yazoo City, a river town used to export cotton and import goods, including liquor.
He had served as a constable, beginning in 1869; became town marshal; and served in the Mississippi Legislature. As a lawmaker, he helped pass the Civil Rights Act of 1871 that attempted to limit the activities of the Ku Klux Klan.
On Dec. 24, 1883, James Posey—the son of Confederate general Carnot Posey—rode into Yazoo City looking for John James, whom he intended to beat or lynch. Posey formed an armed "whipping party" that included himself, his brother Carnot, and friend Jasper Nichols.
Foote was told about the plan and headed into town with his Springfield breech-loading single shot rifle.
During a confrontation, Foote fatally shot the three men and suffered a head wound from a revolver butt. Foote and 10 other African-Americans who backed him were arrested, and a posse chased down and fatally shot John James.
A coroner's jury indicted Foote and three others for murder. As Foote and the others awaited trial, an angry crowd stormed the jail and killed Foote and three other African American prisoners. Foote was 40.
Deputy collectors are believed to be direct forerunners of today's ATF special agents because they also enforced federal tax laws. They collected taxes from licensed wholesale and retail distilleries, seized illicit distilleries and moonshine products and arrested and prosecuted tax violators.
By Paul Clinton