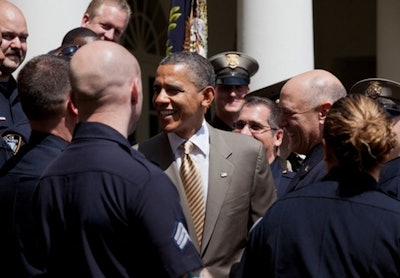 In a Saturday ceremony, President Obama paid tribute to the 34 law enforcement officers honored by the National Association of Police Organizations (NAPO) for bravery and valor in the line of duty.
"When you put on that badge, you assume a special responsibility," President Obama said. "And every time you put it on, you never know if this day will be the day that you've spent your entire career training for—the day when just doing your job and being a hero are exactly the same thing. For the men and women standing behind me, America's Top Cops, that day came. And when it did, they were ready. They didn't flinch. They didn't back off. There are people who are alive today only because of their courage."
Each year, NAPO honors officers during National Police Week with its "Top Cops" award.
Officers who received the recognition this year include 15 Detroit Police officers who stopped a precinct attack; two Paramus (N.J.) Police officers who returned fire from a fleeing motorist; five NYPD detectives who rescued two stranded cadets; and a Miami-Dade Police detective who stopped a career criminal who killed two officers serving a murder warrant.
President Obama also said the nation must continue to support the men and women in law enforcement.
"We will be forever in debt to those who wear the badge; to men and women with a deep sense of duty, and willingness to serve and sacrifice on our behalf. And I think these individuals don't mind me saying that they are representative of the sacrifices and that quiet courage that exists among law enforcement officers all across the country."
Read the full list of "Top Cops" winners at the NAPO website.
Related: