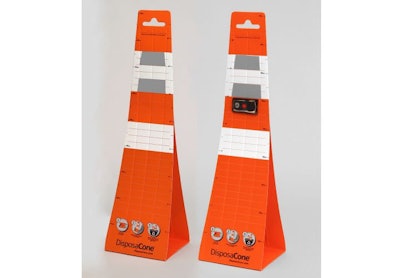 DisposaCone has gained federal approval as the nation's first disposable, temporary control device for roadways under Section 6i of the Manual for Uniform Traffic Control Devices (MUTCD), the company announced.
"There are situations where safety cones are necessary but not always readily accessible," said Chief James Roop of the Haymarket (Va.) Police Department in a release. "The DisposaCone fills a much needed void in the instance of an emergency situation."
At 18-inches in height and highly visible in the widely recognized fluorescent safety orange color, DisposaCone is a retroreflective barricade that provides public warning without being cumbersome burden in vehicles.
DisposaCones fold flat for easy and compact storage. First responders can store 30 cones—roughly two-thirds the height of a quart-sized bottle of motor oil—under almost any seat, a vehicle trunk or motorcycle saddlebags, providing much needed room for other vital equipment.
DisposaCones are inexpensive. A three-pack costs nearly half of a traditional 18-inch tall cone.
With an adhesive butyl base, the cones attach well to any firm surface and won't need to be put upright or chased down in the wind. They can also be left standing for up to seven days, according to the company.