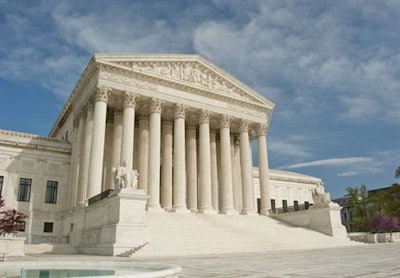 The U.S. Supreme Court will hear oral arguments about Arizona's tough immigration law on Wednesday in a landmark case expected to provide clarity about whether states can enforce federal immigration laws.
Federal courts have blocked the four most controversial sections of Arizona's SB 1070, which was passed in 2010 and gave officers expanded powers to ask about the immigration status of subjects, and to hold those suspected of being illegal immigrants, reports the New York Times.
It's unusual for the Supreme Court to accept a case that hasn't yet been fully adjudicated by the lower courts, but the court appears to want to resolve the issue sooner rather than later, reports the Arizona Republic. Several other states including Georgia, Alabama, and Utah have passed laws similar to SB 1070, prompting conflicting legal rulings in various appeals-court districts.
Justice Elena Kagan will not hear this case, because as solicitor general, before taking the bench last year, she had been involved in the Obama administration's initial legal opposition to the law, reports CNN. The Wednesday hearing will be the final case of the court's current term.
SCOTUSblog has an in-depth preview of Wednesday's arguments.