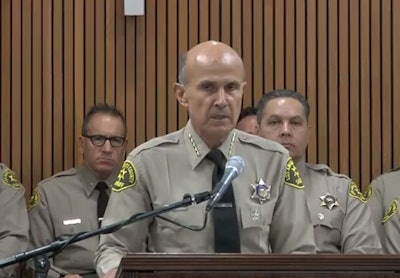 Faced with mounting pressure over a jail abuse scandal and criticism of his management, Sheriff Lee Baca on Wednesday agreed to dozens of reforms including the establishment of an independent inspector general to scrutinize Sheriff's Department operations.
The move would create significantly stronger civilian monitoring of the Sheriff's Department, with an inspector general having the power to conduct investigations both inside the nation's largest jail system and elsewhere in the department.
Baca's comments came several days after a blue-ribbon panel appointed by the Los Angeles County Board of Supervisors blamed the sheriff for the problems of excessive force in the jail system. The panel said Baca did not heed repeated warnings about the problems.
Baca said he plans to implement all of the commission recommendations.
Read the full Los Angeles Times story.
Watch Sheriff Baca's press conference here.
Related:
Former L.A. County Deputies Describe Jail Misconduct
Retired Commander Warned L.A. Sheriff About Problem Deputies