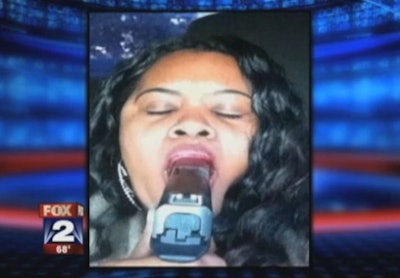 Detroit Police Chief Ralph Godbee Jr. was suspended Tuesday amid accusations that he had an affair with a female police officer—the second sex scandal to tarnish his tenure since he took the helm in 2010.
Detroit Police Officer Angelica Robinson, who works in internal affairs, notified the Detroit Free Press, MyFoxDetroit, and other media outlets that she has been in a relationship with Godbee.
Officer Robinson took to Twitter to post tweets because she believed the chief, who was attending the International Association of Chiefs of Police conference in San Diego, was having a relationship with another woman.
Officer Robinson posted a photo on Twitter showing her with her 9mm duty pistol in her mouth.
After the scandal broke Tuesday afternoon, Mayor Dave Bing suspended Godbee.
"After learning of the allegations regarding Chief Ralph Godbee, I have placed him on a 30-day suspension pending a full and thorough investigation of this matter," Bing said in a statement. "In the interim, Assistant Chief Chester Logan will assume the duties and responsibilities of police chief."