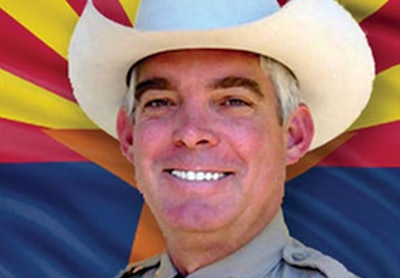 Cochise County (Ariz.) Sheriff Larry Dever died when his truck rolled over in northern Arizona Tuesday night.
The sheriff was was driving up to meet one of his six sons for a two-day family hunting trip near White Horse Lake in Coconino County when his vehicle rolled on a gravel U.S. Forest Service road about 15 miles outside of Williams, reports the Arizona Republic.
Dever, 60, was a vocal proponent of SB 1070, Arizona's tough immigration law that was mostly upheld by the U.S. Supreme Court in June. On Tuesday, a federal district court judge lifted the injunction allowing law officers to check immigration status of subjects with reasonable suspicion.
Sheriff Dever oversaw a jurisdiction of about 117,000 residents in the southeastern corner of Arizona at the U.S.-Mexico border.
Sheriff Dever was elected to his first term as sheriff in 1996. He joined the office as a deputy in 1976 and rose through the ranks from sergeant to major before running for office. He was re-elected to a fourth term in 2008.