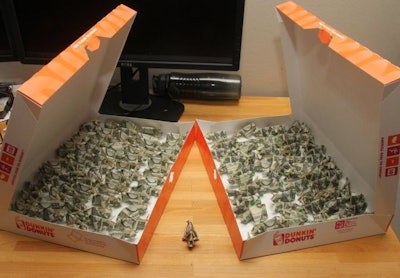 A man paid a $137 traffic ticket with 137 pig-shaped origami bills in Dunkin' Donut boxes that frustrated and amused the clerk and officers at the police station.
The man, who goes by the moniker "Bacon Moose," uploaded a video of the encounter to YouTube. The $1 piggies took about six hours to prepare.
In the video, a clerk refuses to accept the payment and calls an officer who tells the man to unfold the bills.
"That's pretty cool and that took a lot of time. Little piggies in a donut box. I got it, I got it," the officer said.