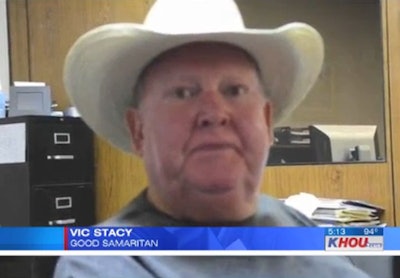 A Good Samaritan with a good aim is credited with saving the life of a small-town cop who was under fire.
Vic Stacy, 66, was inside his trailer at the Peach House RV Park in Early, Texas, roughly two hours southeast of Abilene, when he heard gunfire. One of his neighbors, Charles Ronald Conner, had shot and killed two neighbors.
The first officer on the scene, a sergeant from the Early Police Department, also came under fire. Conner, armed with an assault rifle and hiding behind a tree, began to fire at the officer. Stacy came out of his trailer and saw the officer was pinned down and wouldn't have a clear shot.
Read the full KHOU story.
Related: