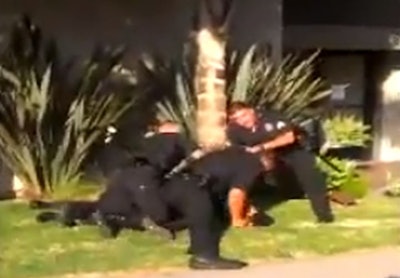 A 20-year-old Venice skateboarder and his family are accusing Los Angeles police of using unnecessary force after a video shows him pinned to the ground and an officer punching him in the face.
The incident unfolded Saturday afternoon when college student Ronald Weekley Jr. was riding his skateboard in the street when officers sought to detain him, police said. Weekley's attorney alleges that police grabbed him and threw him to the ground. Weekley suffered a broken nose, concussion and fractured cheekbone, said Ryan Julison, a spokesperson for attorney Benjamin Crump.
A video provided to KTLA shows Weekley on the ground with four officers on top of him. One officer is seen punching Weekley in the head.
Read the full Los Angeles Times story.