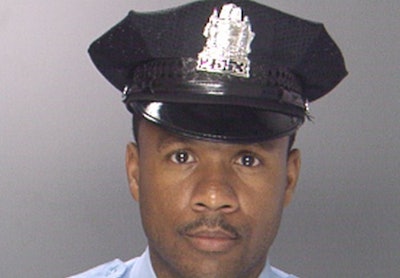 The Philadelphia Police Department continued searching Monday for the suspect who fatally shot Officer Moses Walker Jr., after the end of his shift early Saturday.
Police released surveillance video showing two male suspects stalking Officer Walker as he walked west on Cecil B. Moore Avenue near 20th Street. The suspects apparently announced a robbery before shooting Officer Walker three times in the stomach, chest, and hand.
The 19-year veteran was found face down and mortally wounded on a North Philadelphia sidewalk. Officer Walker was in plain clothes and lying on his gun. He was pronounced dead at Hahnemann University Hospital at 6:23 a.m. Saturday, reports the Philadelphia Inquirer.
VIDEO: Philly Cop Murdered In Robbery
Officer Walker had served with the department since August of 1993, when he graduated from the police academy. He began foot patrol in the Center City District and was later assigned to the 23rd District. For the last 18 years, Walker patrolled the North Central District.
"He was known by both his fellow officers and the residents he served as a courteous, polite, and humble man," according to a department statement. Officer Walker is survived by his mother and five siblings.
A reward for information leading to the arrest of Officer Walker's killer now stands at $87,500, reports CBS Philadelphia. A $35,000 reward was initially offered by the city and Fraternal Order of Police Lodge 5.
Related: