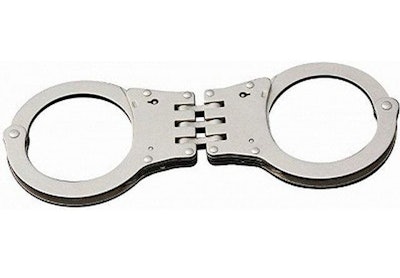 OfficerStore.com is offering a range of CTS-Thompson restraint products that prevent escapes and limit potential violent behavior during arrest and transport and use the innovative Tri-Max design, according to the online retailer.
Tri-Max is CTS-Thompson's newest innovation and features bump and pick resistant technology to enhance officer safety during arrest and in-custody transport situations. Tri-Max Technology is available in standard-size chain handcuffs, oversize, and extra oversize chain handcuffs, oversize hinge handcuffs as well as standard-size chain leg cuffs.
The Tri-Max technology consists of a dual ratchet engaging independent retaining bars separated by a barrier called Pick-Shield-XLS. Tri-Max cuffs are designed with a split-shackle construction that increases the strength of the handcuffs by directing the gap between the dual shackles to pass through a rigid monorail retaining bar. Gaining vertical and lateral strength, the internal bar also inhibits a shim from entering the nose or rear of the shackle. Independently floating retaining bars on each side of the shackle are engaged by a double five-tooth pawl. While popping the double lock may be possible, a pick has no straight line of sight to go through the handcuff to engage the rear retaining bars and depress them.
Stamped from 1050 carbon steel, the parts are hardened from R885 to RC40 prior to assembly. This makes the Tri-Max exceptionally strong and allows maximum flexibility to avoid cracking under stress. That's why it's called TRI-MAX Security.
The handcuffs feature positive clickbak loading, oversized swivel, and reinforced steel rivets for added strength, 23 locking positions and three independent retaining bars floating on tempered leaf spring. The oversized chain handcuffs are specifically designed for larger wrists with a 6.25-inch minimum and 9-inch maximum inside perimeter. The extra oversize chain handcuffs are built for extra-large wrists and boast of an inside perimeter of 8-inch minimum and 10-3/4-inch maximum.
All standard chain-style handcuffs are made from nickel-plated stainless steel. With True Swing technology, the shackle will always swing straight into the body plates to lock itself into the drop bars. The Positive Clickbak loading system provides fast back-loading and application, while raised rivets increase strength. At just over nine ounces, the standard chain handcuffs are lightweight cuffs and a strong solution to providing the best fit.
Oversize hinge handcuffs have an inside perimeter of 6.25-inch minimum with a 9-inch maximum. Its larger size gives officers more flexibility and a stronger fit. They are reinforced by a solid-wishbone design. The oversize hinge handcuffs also feature a triple-hinge made from nickel-plated stainless steel. Each connecting hinge is individually pinned into the handcuff body plates, creating the strongest hinge handcuff design.
CTS Thompson also offers both oversize and extra oversize chain leg cuffs. Oversize chain leg cuffs have an inside perimeter of 8-inch minimum and 10-3/4-inch maximum while the extra oversize model has an inside perimeter of 11-1/4-inch minimum with a 15-1/8-inch maximum. These leg cuffs are designed for increased officer safety and for an over-the-boot fit.
They feature True Swing technology for fast and accurate alignment of the shackle and retention bars. Multiple drop bars and a deep rail add grip while side double locks keep dirt and grime out of the cuff mechanism. Reinforced steel swivels, oversized spin rivets and heavy-duty construction make these leg cuffs stronger and flexible under stress. A 15-inch chain makes these leg cuffs one of the safest designs available. With 23 locking positions, the cuffs include two keys for an accurate fit.