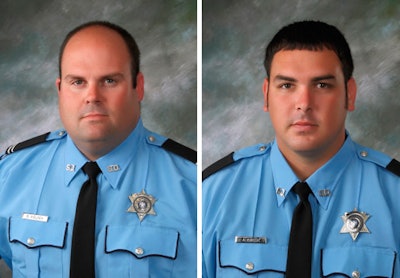 Two Louisiana sheriff's deputies were fatally shot and two others injured early Thursday in a pair of shootings west of New Orleans.
Five suspects are in custody, St. John the Baptist Parish Sheriff Michael Tregre told the Times-Picayune. The shootings occurred in LaPlace.
At about 4 a.m., St. John the Baptist Parish Deputy Michael Scott Boyington, an investigator assigned to the district attorney's office, was ambushed while working a traffic detail at a remote parking lot for the Valero refinery at the intersection of La. Highway 3217 and Airline Highway. Boyington was wounded by gunfire.
Deputies tracked a car fleeing the scene to a trailer park, where a suspect with an assault rifle ambushed them. Deputies Brandon Nielsen, 34, and Jeremy Triche, 27, were killed by the shooter. Deputy Jason Triche was wounded. The Triches aren't related.