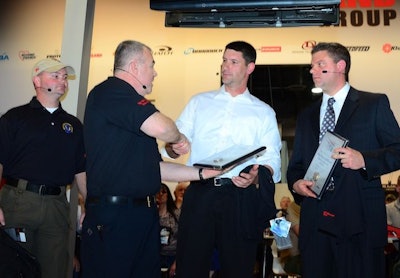 The Safariland Group honored three officers at SHOT Show who survived harrowing gunfights because they were wearing the company's body armor.
The officers told the stories of their encounters with determined, armed suspects during a presentation today at the Safariland booth during the Las Vegas trade show. The company inducts officers into the Safariland Saves Club, which now includes 1,830 members who survived because they were wearing Safariland body armor.
Corporal Pete Penney of the Arkansas State Police gave the first presentation. In March, Cpl. Penney was serving a traffic stop along Highway 278 when he encountered a convicted felon. The suspect became combative during the exchange and a violent altercation ensued. During the struggle, the assailant pulled a .357 Magnum revolver and shot Cpl. Penney in the lower abdomen. The round was stopped by his ABA XT2-9 armor.
Two deputies from the Greenville County (S.C.) Sheriff's Department then gave a joint presentation about a gunfight with a suspect under the influence of methamphetamine who took a former girlfriend and her family hostage.
Master Deputy Jeff Maxwell and Deputy Brad Grice responded to a single-wide trailer in October. The deputies, members of the tactical team, made entry to the trailer. The suspect opened fire on the victims and the officers with a 30-30 lever-action rifle.
Maxwell was shot in the left leg; a second round glanced off his patrol rifle and hit his Protech FAV MK II armor with SM01 IIIA ballistics. The round stopped within an inch of his neck. Deputy Grice was hit in the left arm; the round was ultimately stopped by his Protech FAV MK II with SM01 IIIA ballistics bicep protector.
Related:
SHOT Show 2012: Safariland Honors Five Officers