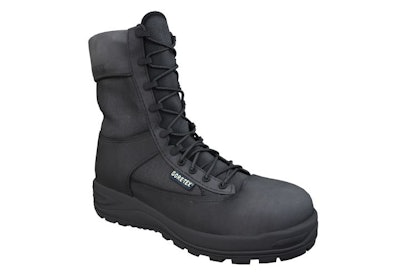 W. L. Gore & Associates has introduced Gore-Tex extended comfort footwear for law enforcement officers that provides "excellent breathability that is equal to or higher than non-waterproof footwear," according to the company.
This new technology delivers durable protection from exposure to rain and inclement weather while allowing moisture vapor to escape from the boot, which helps keep feet dry and more comfortable, according to the company.
The unique single-wall construction of Gore-Tex extended comfort footwear eliminates the need for extra lining, making the footwear a more lightweight alternative. Testing has shown that these new boots retained 90% less water than comparable boots, and they dry out faster, further reducing boot weight, according to Gore.
The technology is available with products from the Belleville Boot Company, Propper International, Reebok, and Shoe Technology Company (STC). It's available in desert tan or black.