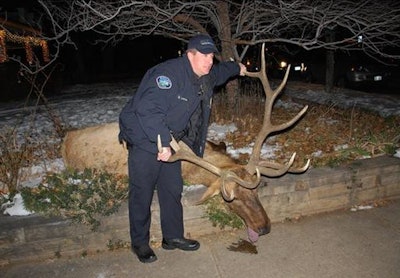 Two Boulder (Colo.) Police officers and a Boulder County Sheriff's deputy have been placed on paid leave for allegedly shooting an elk and failing to notify the agencies about the shooting.
Officers Sam Carter and Brent Curnow, as well as an unnamed deputy, are on leave during the investigation.
An on-duty officer shot the large elk on Tuesday in the Mapleton Hill neighborhood after he said it appeared injured with a limp and antlers broken off. An off-duty officer then arrived to process it for meat.
Neighbors told the Daily Camera that the elk wasn't injured. A resident photographed Carter posing with the elk.
On Sunday, Mapleton Hill residents held a vigil for the elk that had been given many nicknames including Big Boy, George, and Elmo. About 70 people carried candles and sang songs such as "Amazing Grace" and "We Shall Overcome," reports CBS News.