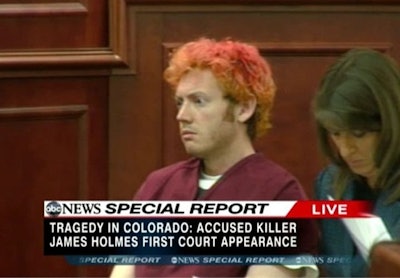 At a preliminary hearing Monday for suspected theater shooter James Holmes, three Aurora (Colo.) Police officers recounted the carnage they encountered after responding to the July massacre.
Holmes faces the death penalty for allegedly killing 12 people and wounding 58 others during a July 20 shooting rampage.
The officers described theater patrons covered in blood, critically wounded children, and the evacuation operation.
During testimony Monday, Officer Jason Oviatt described first encountering Holmes. Oviatt thought Holmes was a tactical officer because of the way he was dressed, but then realized he wasn't rushing toward Theater 9. Oviatt then handcuffed Holmes and searched him. He found two knives and a semi-automatic handgun on top of Holmes' car. An ammunition magazine fell out of his pocket and Oviatt found another on the ground, reports the New York Times.
Officer Oviatt said Holmes seemed "very, very relaxed" and didn't seem to have "normal emotional reactions" to things. "He seemed very detached," he said.
In his testimony, Officer Justin Grizzle described encountering the handcuffed Holmes outside the theater and asking if there was anyone with him. Holmes gave Grizzle "a smirk" before the officer entered the theater, reports the Denver Post.
Another officer who testified, Sgt. Gerald Jonsgaard, said he saw patrons inside the theater cowering in the first two rows of seats.
The officers described evacuating wounded, bleeding patrons to their patrol cars and driving them to Medical Center of Aurora South.
On Tuesday, FBI and ATF special agents detailed the two elaborate, deadly booby traps set by Holmes in his apartment as a distraction to draw law enforcement away from the theater, reports the Denver Post.
Earlier Tuesday, 911 calls from inside Theater 9 were played in court.