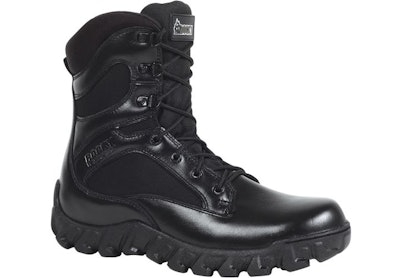 Rocky Brands has introduced the Max Force duty boot for patrol officers that provides "long-lasting comfort," according to the company.
The Max Force line includes the Max Durability, Max Agility, and Max Comfort boots and offers athletic-inspired construction for agile movement. With uppers constructed of foam cushioning, the boots feature the Rocky Air-Port Cushioning System, which provide a shock-absorbing TPU (thermoplastic urethane) heel and vented air ports.
The water-resistant boots also include an oil and slip-resistant outsole that provides "maximum traction and ankle stability," according to the company.
The collection will be available in March. The retail price for the six-inch Lace-up Composite Toe is $129.99.