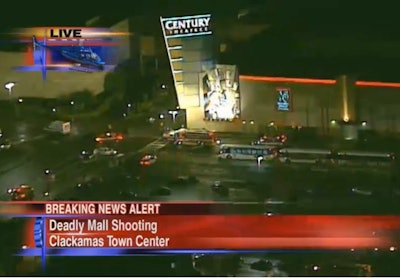 A gunman who opened fire inside a Portland-area shopping mall killed two people and wounded a third, before turning the gun on himself on Tuesday afternoon, authorities said at a 6:30 p.m. press conference.
Clackamas County (Ore.) Sheriff's deputies continued to search the mall Tuesday evening, interview witnesses, and gather evidence. The gunman, identified as an adult male, killed himself without officers firing any rounds, Lt. James Rhodes said.
At 3:30 p.m., a man brandishing a rifle opened fire inside Clackamas Town Center. Responding officers conducted a store-by-store search for the man, who witnesses said was wearing body armor.
The shooting may have occurred near Macy's and a man was seen with an AR-15 and white hockey mask near the mall's food court. As many as 60 rounds may have been fired, reports the Oregonian.
The mall will remain closed as officers search the mall, treat any wounded people, and begin the criminal investigation, the FBI announced.