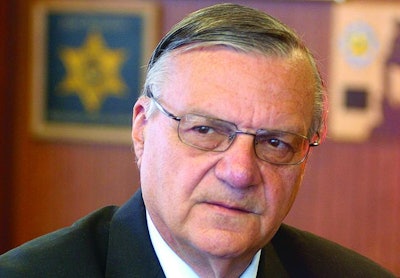 Maricopa County (Ariz.) Sheriff Joe Arpaio won a sixth term Tuesday in what was his closest race, since taking office in 1993.
Arpaio defeated challenger Paul Penzone, a veteran Phoenix Police officer, and Mike Stauffer, a Scottsdale Police lieutenant.
Sheriff Arpaio has become a national figure who's seen in Arizona as standing up to President Barack Obama's administration regarding immigration enforcement.
The U.S. Justice Department accused Sheriff Arpaio of discriminating against Latino residents. The sheriff's standoff with the Obama Administration helped him raise $8.2 million during the campaign, 80% of which came from donors outside of Arizona, reports the Arizona Republic.
Related:
Feds Drop Criminal Probe of Sheriff Arpaio