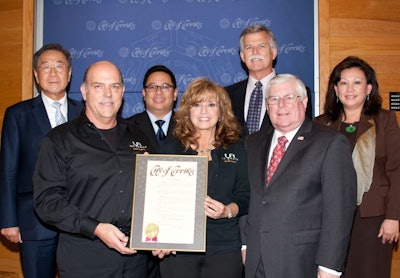 Body armor maker U.S. Armor Corp. was awarded a city proclamation on Oct. 25 by Cerritos, Calif., where the company is based.
U.S. Armor, which was founded in 1986, is a family-operated business that produces custom-fit body armor and other ballistic protection products for federal, state, and local law enforcement agencies throughout the world.
The company's clients include U.S. Border Patrol, U.S. Coast Guard, U.S. Navy, Los Angeles Police Department, Orange County Sheriff's Department and Orange County Probation.
U.S. Armor's Stephen Armellino, president and CEO, said the company's primary manufacturing facility is based in Cerritos.
"We enjoy the safety of the city of Cerritos but also the business-friendly environment that allows for expansion as our company continues to grow," Armellino said.