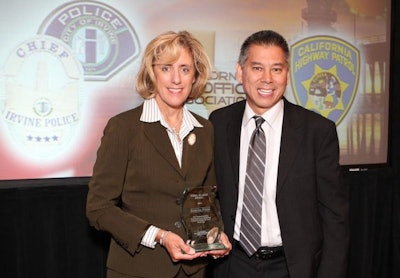 The California Highway Patrol's highest-ranking female officer has been awarded the Trailblazer Award by the California Peace Officers' Association.
Assistant Commissioner Ramona Prieto, a 36-year CHP veteran, received the award while attending the Women Leaders in Law Enforcement conference in Irvine earlier this month.
The Trailblazer Award recognizes a woman in California who, by demonstrating outstanding achievement within their job tenure and in their community, has enhanced the visibility and stature of women in law enforcement.
"Commissioner Prieto took on a leadership role early in her career with the highway patrol and it is a privilege to serve alongside of her every day," said Commissioner Joe Farrow. "She is a true role model for women in law enforcement."
Throughout her career, Commissioner Prieto has worked in seven field commands and three staff operations. Prieto was the first female motorcycle officer for the agency, riding a motorcycle on patrol in Los Angeles for five years.
On May 1, 2008, Prieto became the first female assistant commissioner in CHP history. She oversees all CHP field and patrol operations from CHP headquarters in Sacramento.
"When I joined the highway patrol there were 50 women total, and I knew them all by first name," Prieto said. "Now there are over 400. My goal has always been to make it easier for those who follow after me."
Prieto said being a mother of five daughters also served as motivation to pave the way for other women.