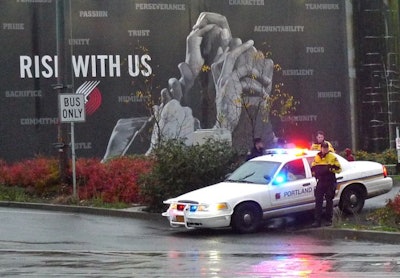 The Portland Police Bureau will establish a crisis intervention team and civilian oversight committee under a settlement agreement with the federal Department of Justice.
The city must hire a compliance coordinator and community liaison to oversee changes to police policies. A 15-member Community Oversight Advisory Board will also be created.
The settlement comes out of a federal investigation opened in June to determine whether Portland officers use excessive force, especially on mentally ill subjects.
The reforms are expected to cost the city $5.4 million annually, reports the Oregonian. The city will hire 32 new staff positions—26 within the Portland Police Bureau, of which the majority are civilians, one attorney in the city attorney's office, three full-time staff in the Independent Police Review Division and two staff members to the city's Office of Equity.
Related:
DOJ Opens Probe of Portland Police Bureau
Portland PD Chief Wants to Transform Training From 'Fear-Based' to 'Competency and Confidence'