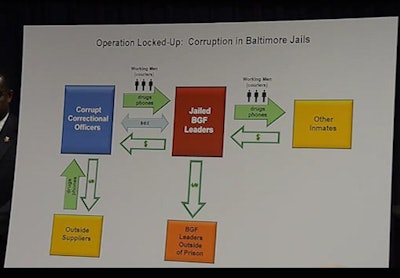 A federal grand jury has indicted 13 Baltimore correctional officers and 12 Black Guerilla Family (BGF) gang members who orchestrated a wide-ranging conspiracy to distribute drugs, launder money, and have sex inside the jail.
The indictments stem from a two-year Maryland Prison Task Force investigation to reform prison procedures, the FBI announced Tuesday.
"Correctional officers were in bed with BGF inmates, in violation of the first principle of prison management," said U.S. Attorney Rod Rosenstein. "Preventing prison corruption requires intensive screening at prison entrances and punishment for employees who consort with inmates or bring cell phones and drugs into correctional facilities."
BGF members and associates allegedly bribed correctional officers at the Baltimore City Detention Center (BCDC) and other prison facilities to smuggle drugs, cell phones and other contraband. Officers arranged favored treatment and privileges for imprisoned gang members, and thwarted interdiction and law enforcement efforts against inmates. BGF members and associates allegedly had long-term sexual relationships with several correctional officers and impregnated them.
BGF leaders allegedly used contraband cell phones to order contraband. Co-conspirators delivered contraband to corrupt correctional officers who smuggled the items into the prisons. Correctional officers often arranged for payment. Some gang dues and drug profits were used to support the activities of BGF street organizations outside the jails.
The charging documents allege that correctional officers brought contraband directly into the prisons through the main entrances. Inside the prisons, the gang controlled smuggling by designating gang members as "working men"—inmates who are paid to assist management and freely move around the jail.
The inmates used Green Dot cash debit cards to pay BGF for smuggled contraband. BGF members bought luxury automobiles with the pre-paid credit cards.
Ranking BGF inmate Tavon White, 36, allegedly directed the criminal operation, according to the FBI. White laid out his role in a Dec. 11 conversation with Officer Adrena Rice, 25.
He said, "I told them worker men that they had to step down off the worker men spots or they was getting hit ... I hold the highest seat you can get ... My word is law ... So if I told any mother-f**king body they had to do this, hit a police, do this, kill a mother-f**ker, do anything, it got to get done. Period."
White and other gang members developed sexual relationships with officers in order to gain influence over them.
White allegedly had long-term sexual relationships inside BCDC with four correctional officers—Jennifer Owens, 31; Katera Stevenson, 24; Chania Brooks, 27; and Tiffany Linder, 27—impregnating each of the four officers at least once. Owens had "Tavon" tattooed on her neck and Stevenson had "Tavon" tattooed on her wrist. The officers allegedly helped smuggle contraband into BCDC and other facilities. White allegedly gave Owens a diamond ring and gave luxury vehicles to Owens, Stevenson and Brooks.
In November, Officer Jasmin Jones, 24, allegedly stood guard outside a BCDC closet so Officer Kimberly Dennis, 26, and inmate Derius Duncan could have sex. Corrupt officers also warned BGF inmates about law enforcement operations. For example, Brooks and Linder allegedly notified White about upcoming canine scans and jail-cell searches. White then used his cell phone to spread the word to other inmates.
The defendants face up to 20 years in prison. Stevenson also faces five years in prison for possession with intent to distribute marijuana.
Other officers indicted include Antonia Allison, 27; Ebonee Braswell, 26; Taryn Kirkland, 23; Katrina LaPrade, 31; Vivian Matthews, 25; and Jasmine Thornton, 26.