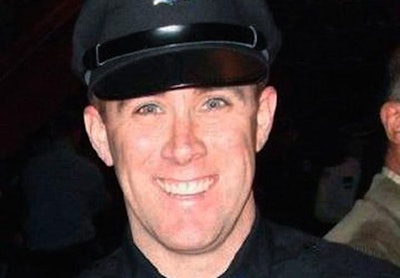 Doctors expect the MBTA transit police officer shot during the Boston manhunt to recover, after he lost nearly all the blood in his body and needed to be resuscitated when his heart stopped.
Officer Richard Donahue, 33, began to emerge from sedation Sunday, reports the Los Angeles Times.
Donahue responded to a call Friday, stepped out of his patrol car and exchanged gunfire with the Boston Marathon bombing suspects. A bullet struck Donahue in the right thigh, severing his femoral vein and artery.
CPR was started at the scene as Donahue began to bleed out. He was transported to the emergency room at Mt. Auburn Hospital in Cambridge, where doctors began blood transfusions and saved his leg. It took doctors more than 45 minutes to restore his pulse.
The officer remained in the ICU Sunday on a ventilator, in stable but critical condition and unable to talk, although he wiggled his toes and squeezed fingers.