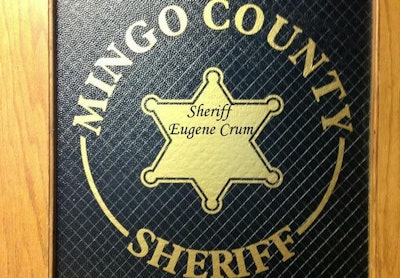 The man accused of killing a West Virginia sheriff Wednesday had spent time in a psychiatric hospital and experienced mental problems caused by exposure to harmful chemicals, media outlets are reporting.
Tennis Melvin Maynard, 37, was taken into custody for fatally shooting Mingo County (W.Va.) Sheriff Eugene Crum while the sheriff was eating lunch with a deputy. Maynard was captured by the deputy after a short pursuit.
Maynard's father, Melvin, told WSAZ late Wednesday that his son has had mental health problems for a few years after he was in a work-related accident at an Alabama coal mine where he was exposed to dangerous chemicals. In a follow-up interview with the Associated Press, Melvin Maynard said his son didn't have a grudge against law enforcement.
"He would have probably shot anybody, the first one he come to, you know what I'm saying?" the elder Maynard said. "I know he was off. I know he should have been in a hospital."
CNN is quoting an unnamed source claiming that Maynard spent time at a state hospital for mental health issues within the last couple of years.
Maynard is also facing an attempted murder charge for firing at the deputy. A Glock .40-caliber handgun was reportedly used by Maynard.