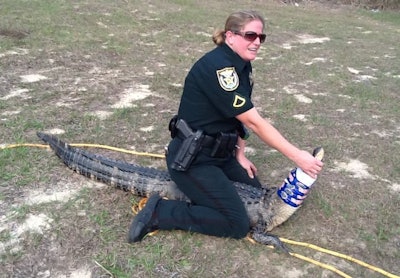 A Lake County (Fla.) Sheriff's deputy captured a seven-foot alligator that had crawled on to the grounds of the middle school where she was assigned as a school resource officer.
Deputy Jessica McGregor, 29, heard a radio call about an alligator at Clermont Middle School on Tuesday. After being told that a trapper was two hours away, the deputy headed over to secure the alligator. Children had just been dismissed from school.
Deputy McGregor grabbed some rope, tied a noose, and lassoed the reptile. She dragged it out, straddled it, and taped it mouth shut. The deputy grew up in Lake County, and learned how to trap alligators on her property. In the past, the agency offered rudimentary training from state fish and wildlife officers, agency spokesman James Vachon told POLICE Magazine.
"The current curriculum does not have any training," Vachon said. "Jessica told me she did not get any training in the academy on handling gators, just experience from growing up."
Watch a video of the encounter here.
Related:
Gator Takes Bite Out of Deputy's Patrol Car