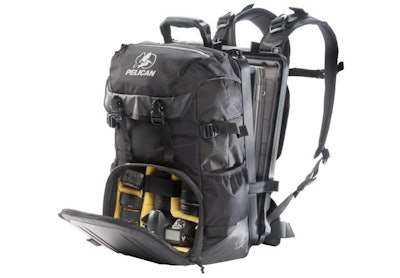 Pelican Products, Inc. has introduced the Pelican ProGear S130 Sport Elite Laptop/Camera Divider Pack, the company announced today.
The S130 features a removable padded divider set with a polymer door to protect a camera body, extra lenses, and flash equipment. Remove the padded dividers and the compartment becomes a travel pack large enough to fit a few days' worth of personal gear.
Designed to safeguard Ultrabook laptops, MacBook computers, netbooks, e-readers, tablets, keyboards and other accessories, its slim integrated crushproof Pelican case features the same military-grade attributes as Pelican's classic case products (including a watertight o-ring seal with automatic pressure equalization valve), according to the company.
Four adhesive-backed, memory foam buffers are included to secure the laptop or tablet for safe travel.
Additional storage comes in the form of an expanding storage compartment for various accessories such as a small tripod or jackets. A nylon chest clip and removable belt are included to help with balance and load distribution.