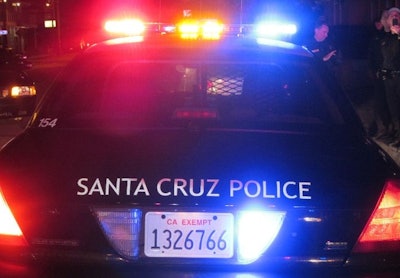 Two Santa Cruz (Calif.) Police officers were fatally shot Tuesday while investigating a sex crime by a suspect who later died in a shootout with police.
Sgt. Loren Baker and Det. Elizabeth Butler were found dead outside the home of Jeremy Goulet, 35. Goulet was shot and killed on Doyle Street at about 3:30 p.m. after firing at officers who were conducting a search of the area.
Baker was a 28-year veteran nearing retirement, while Butler has served with the agency for 10 years. The officers are the first line of duty deaths in the agency's history, reports the Santa Cruz Sentinel.
The officers were wearing plainclothes when they were shot, reports City News Service.
Goulet, a coffee shop barista, had been arrested Friday and was suspected of making inappropriate sexual advances toward a co-worker at her home. In 2008, he was convicted in Portland, Ore., of peeping on a 22-year-old woman who was showering. Goulet had been on probation but was later sentenced to two years in jail after a dispute with his probation officer, reports the Associated Press.
The Santa Cruz County Sheriff's Department has taken over the investigation into the officers' deaths.