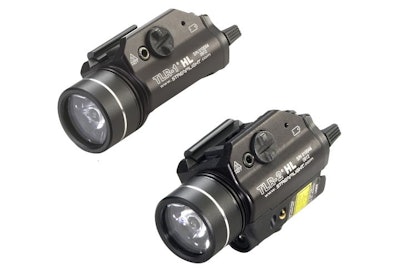 Streamlight Inc. has upgraded its TLR gun-mounted lights by introducing high lumen versions—the TLR-1 HL and TLR-2 HL—that deliver 630 lumens of brightness in a wide beam pattern, according to the company.
The TLR-1 HL and TLR-2 HL also offer a strobe for field signaling and target disorientation. The TLR-2 HL is equipped with a 640-660 nanometer integrated red aiming laser for long-range targeting.
The lightweight, compact lights each feature the latest in LED technology, including a shock-proof C4 LED and a special optic that produces a concentrated beam. The new lights also offer 12,000 candela peak beam intensity.
The lights quickly mount to most weapons safely and securely, attaching without the need to put your hands in front of the muzzle. They mount directly to all MIL-STD-1913 (Picatinny) rails and handguns with Glock-style rails. Both lights come with key kits to fit a broad range of weapons. The strobe feature, which can be disabled, is activated with two or more momentary paddle hits.
Offering 1.25 hours of continuous run time, the lights use two three-volt, CR123A lithium batteries. The TLR-1 HL weighs 4.18 ounces, and the TLR-2 HL weighs 4.78 ounces; they each measure 3.39 inches.
Both lights are fabricated from 6000-series machined aluminum. The TLR-1 HL is IPX7 rated for waterproof operation to 1 meter for 30 minutes, while the TLR-2 HL offers an IPX4 rated design for water-resistant operation.
The TLR-1 HL and the TLR-2 HL retail for $234 and $523, respectively.