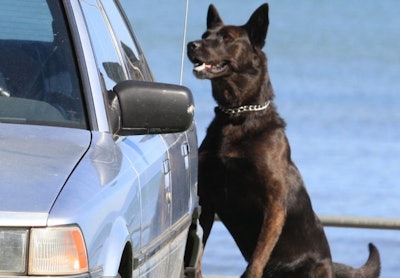 Gov. Andrew Cuomo has signed legislation that now makes it a felony to kill a police dog or horse, increasing the penalty from a misdemeanor when the law goes into effect in November.
Ape's Law, or S1079A, was named after an FBI police dog who was killed by a gunman upstate, reports the New York Daily News. The law goes into effect Nov. 1.
"Police animals go where others will not in order to keep law enforcement officials and all New Yorkers safe from harm and it's a tragedy when one is killed," Cuomo said in a statement. "This new law will hold the guilty parties accountable and offer better protections for these highly trained animals who are important members of our law enforcement community."
In June, an Alabama bill became law, making it a crime to injure or interfere with a police dog, a search and rescue dog, or their handlers.
Cuomo also signed legislation going into effect immediately that allows police departments to waive the requirement that a police dog must be confined for 10 days after biting an individual on duty. Dogs that had bitten individuals had been detained for a 10-day observation period as a precaution to protect against any possible rabies exposure. The new law allows law enforcement to receive a waiver from a local health department based on the dog's up-to-date rabies vaccinations.