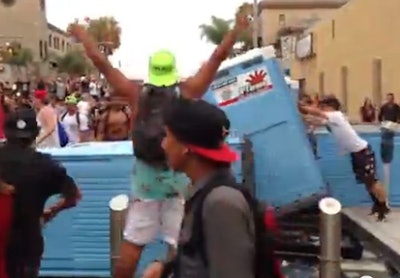 Huntington Beach (Calif.) Police officers arrested seven people, including a man who struck an officer with a skateboard, during a wild melee Sunday after the U.S. Open of Surfing.
More than 100 officers flooded into downtown Huntington Beach to quell the melee, which was captured by cell-phone videographers and news photographers, reports the Associated Press. A YouTube video shows rioters knocking over portable toilets. A Los Angeles Times photographer captured looters shattering the window of a bicycle shop.
Attendees ripped a stop sign out of the ground across from an IHOP and used the sign to shatter the window of the Easyrider bicycle shop. The owner fought with looters who attempted to steal bicycles. Several city vehicles were vandalized.
The melee apparently started when someone was hit by a ketchup bottle from a second-story restaurant, reports KTLA. Responding officers fired less-lethal rubber projectiles to subdue the crowd.
On Monday, police sifted through photos and video from the event and said they expect to make more arrests.