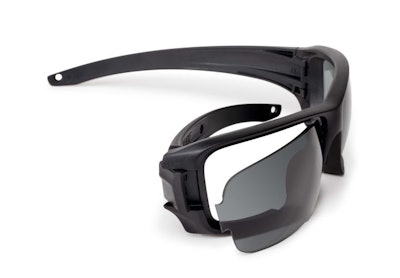 ESS (Eye Safety Systems) has introduced its aggressively styled Rollbar ballistic eyewear that delivers advancements in fit, form, and function by providing users with quicker lens exchanges, enhanced lens retention, and improved integration with head-borne devices, according to the company.
The eyewear offers eye protection that excels in extreme tactical conditions and is suited for shooting sports or other recreational activities, according to ESS.
Rollbar sunglasses come standard with two sets of interchangeable, high-impact polycarbonate lenses—Smoke Gray for daytime use and clear for indoor or nighttime wear.
The rapid lens exchange is accomplished via the auto-locking Rollbar Lens Gate, an easy-to-use mechanism designed to expedite lens swapping and ensure superior lens retention under impact. The Rollbar's wide peripheral vision and distortion-free lenses help ensure maximum performance with minimal eye strain. A streamlined, ergonomic fit provides superior comfort and optimal compatibility with hats, helmets, hearing protection, and communications devices.
A range of accessory lens colors will soon be available, making this sunglass adaptable to any light condition. The Rollbar can be worn by a wide range of users, accommodating anyone with medium to extra-large fit requirements. The Rollbar is backed by a 30-day "try-on-for-fit" guarantee, a five-year warranty, and the industry's only lens contingency program.
Rollbar sunglasses are compliant with U.S. MIL-PRF-31013 (Clause 3.5.1.1), ANSI Z87.1-2010, and U.S. federal OSHA. Rollbar lenses provide 100% UVA/UVB protection.