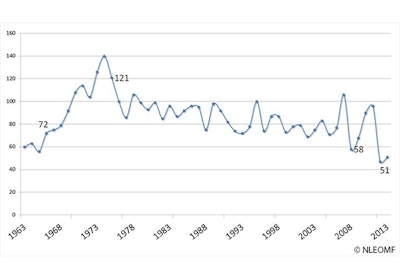 Law enforcement saw a 9 percent increase in the number of officers killed on duty during the first half of 2013 as compared to the same period in 2012, according to the National Law Enforcement Officers Memorial Fund.
Despite the increase, it marked the second lowest number since 1963, when the fund began tracking duty deaths. There were 51 officers killed from January through June compared to 47 officers killed on duty in the first half of 2012, according to preliminary data released Thursday.
A year ago, the fund reported 53 duty deaths, but later lowered that number to 47 after further research revealed several deaths occurred off duty, Steve Groeninger, a fund spokesman, told PoliceMag.com.
Traffic-related fatalities were the leading cause of officer deaths with 18, matching the 18 traffic deaths from the first half of 2012.
Firearm-related deaths, the second leading cause, fell 11 percent to 17 compared with 19 in first-half 2012. Seven ambush attacks made that the leading cause in this category.
The biggest increase came from other causes of officer fatalities with 16 in 2013 compared with 10 in 2012 for a 60 percent increase. Job-related illnesses, such as heart attacks, drastically rose in the first half of 2013, with 10 officer deaths compared to two officers during the same time period in 2012.
Of the fallen officers, 47 were men and four were women with an average age of 42 years and 14 years of service.
Read the full report here.