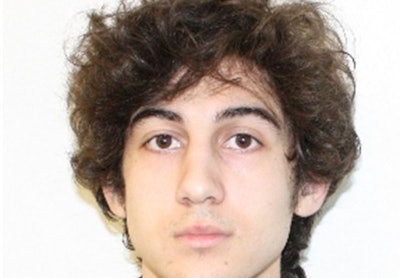 A federal grand jury today indicted Dzhokhar Tsarnaev on 30 charges of killing four people and using homemade bombs during the Boston Marathon bombing and manhunt.
Tsarnaev, 19, is accused of carrying out the April 15 attack with his brother Tamerlan, who died in a gun battle during the manhunt four days later. Of the 30 counts, 19 carry the possibility of the death penalty.
The indictment accuses the pair of setting off homemade pressure-cooker bombs at the marathon finish line in a crowd of thousands of people. During the manhunt, the two ethnic Chechens used IEDs and other weapons, including a Ruger P95 handgun, machete, and hunting knife. They drove their Honda Civic to the MIT campus, where they shot and killed Officer Sean Collier, according to the indictment.
For more details on the specific charges, read the U.S. Attorney's Office press release here.