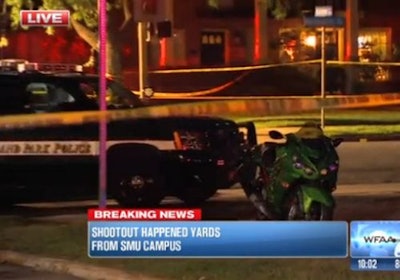 A Texas man arrested Tuesday for riding a stolen motorcycle was shot and killed after he fired a concealed handgun at officers from inside a police SUV.
Highland Park police officers first encountered the man at a Barnes & Noble bookstore. The suspect fled on a green motorcycle, but was quickly subdued, reports WFAA.
Officers discovered the motorcycle was stolen and handcuffed the suspect, who had an outstanding warrant for fleeing from police. Moments later, witnesses heard a loud pop and saw the back window of the police SUV shatter. The suspect had concealed a handgun from the arresting officers.
Officers returned fire, killing the suspect.