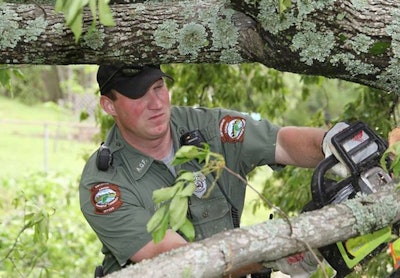 Authorities have recovered the body of the Arkansas wildlife officer who was swept away with Scott County's sheriff while attempting to rescue two women during Friday flooding.
Officer Joel Campora of the Arkansas Game and Fish Commission and Sheriff Cody Carpenter drowned Friday morning on the Fourche Lefave River near Y City in western Arkansas.
The two law officers had responded to a 911 call of two women who were trapped in a flooded home near the river. The officers left their boat and approached the home. Rising flood waters then crushed the home and swept away the officers, the two women, and the boat, reports 5 News Online.
Officer Campora's body was recovered at 9:30 a.m. Sunday on a fence line next to Mill Creek. Sheriff Carpenter was recovered Friday.