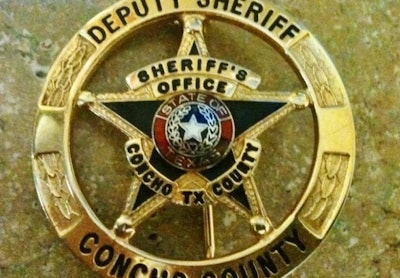 Concho County Sheriff Richard Doane was wounded Sunday during a shootout with a Marine who had gone on a two-hour rampage in Texas that left two dead and five wounded.
At about 6:15 a.m., Sheriff Doane, state troopers, and a game warden caught up with Esteban J. Smith, 23, on U.S. Highway 83 north of Eden, reports NBC News.
Smith, an active-duty Marine stationed at Camp Lejeune, has been linked to the deaths of two women. His wife, 21-year-old Rubi Estefania Smith, was found fatally stabbed Sunday at a hotel in nearby Jacksonville, N.C., reports WNCT.
Smith is also suspected of fatally shooting 41-year-old Alicia Torres of Eola, Texas, who was found dead in her car prior to the gun fight. He was killed in the shootout with officers. Authorities found an assault rifle, handgun, and hundreds of rounds of ammunition in Smith's truck, reports CNN.
Sheriff Doane is expected to fully recover. The sheriff "is doing wonderful and will be home soon," according to an update on the sheriff's office Facebook page.